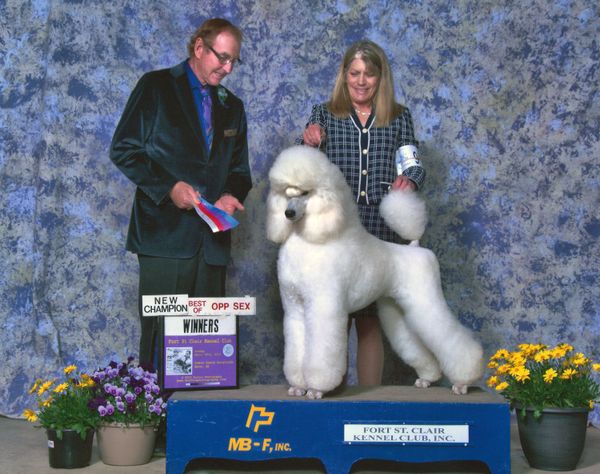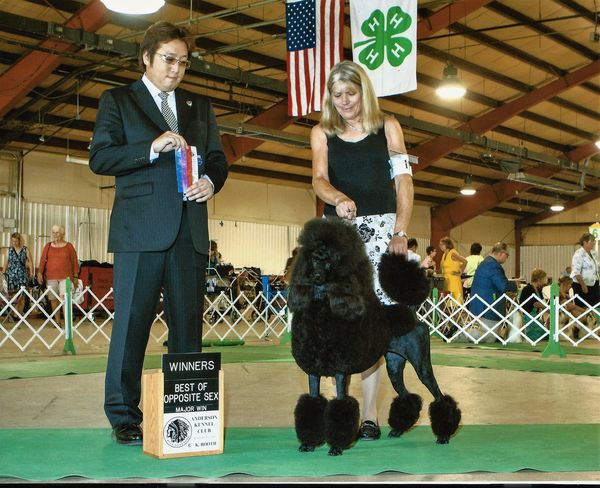 Charlee, Ch. Skybreeze Spirit of Adventure, is now a finished Champion.  She is home with us, romping and playing!  She is full of adventure, curious and simply gorgeous.
Charlee was expertly shown by two wonderful professional dog handlers, Adriano and Danielle Rocha.  They loved and cared for our girl while she was out on the show circuit with them.  Thanks very much to Adriano and Danielle.
We had another girl on the show circuit with Adriano and Danielle.  Gracie,  Grand CH Skybreeze Somebody To Love. Gracie finished her Grand Championship and also now is home playing with us and her relatives and lounging on our furniture! 
Again, thank you to Adriano and Danielle Rocha for their excellent handling.  Gracie is elegant and refined and we are love having her home with us!
We will be posting pictures of our girls soon!!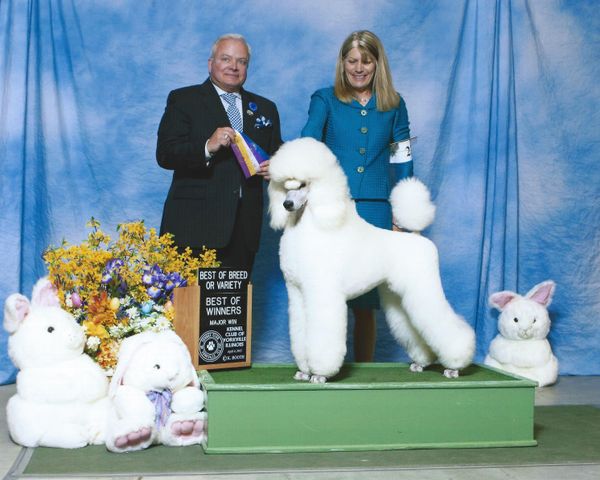 DARCEE, a female black standard poodle is now a Champion. She finished as a puppy. Gorgeous. We will be posting pictures of her soon!

ON APRIL 4, 2015,  our standard poodle,  Litilann's  Skybreeze  Tidal Wave  (Maggie),  at  ten months of age, won best of variety  in DeKalb, Illinois over twenty six other standard poodles, including six champions! 
Thanks to AKC  Judge Dennis McCoy and to Ann Rairigh for her excellent handling of this little standard poodle girl.

On APRIL 11, 2015 Maggie won again; This time she was Best of Winners at the Steel City Kennel Club show in Crown Point, Indiana.  Thanks to  AKC Judge Francine W. Schwartz.

On APRIL 12, 2015 Maggie, for the second day in a row, won Best Of Winners at the Steel City Kennel Club Show! 
Thanks to  AKC Judge Chuck Winslow!

ON APRIL 23, 2015, Maggie showed at Poodle Club of America (PCA) and placed in the final cut for her class. 

ON APRIL 26, 2015, Maggie finished as a champion in Eaton, Ohio!

Maggie was our first AKC conformation PUPPY champion.  She finished as an AKC champion standard poodle at eleven months of age.  She is now:  Ch Litilann's  Skybreeze Tidal Wave.

Maggie has retired from the show ring.  Her accomplishments speak for themselves.  We will probably breed her one last time.  Her puppies have become Champions, therapy dogs, service dogs and loving companion dogs.  We simply love Maggie.  She is entirely huggable!